A Durable, Lightweight Solution to Safely Unjam Conveyors
Whether your company moves thousands or millions of packages, operational inefficiencies, product damage or downtime can mean the difference between success and failure.
Distribution Centers
Globe's engineering team noticed that distribution centers were using bent metal makeshift tools or conduit pipes to unjam packages on conveyor systems. Sometimes the bent metal ends were welded or fastened and the sharp edges of the tool punctured the package or damaged the product. These unprofessional solutions cause product damage and aren't safe for employees.
Airports
Airports handle thousands of passenger bags each day, and jams can result in luggage missing a flight. Often baggage handlers or TSA personnel do not have the tools to safely unjam bags from security scanners, resulting in exposure and safety issues for staff or baggage damage for customers.
Globe created a family of Jam Break Tools to address these issues by providing a lightweight, durable and ergonomic solution to increase operational performance and enhance employee safety. Made with Brandonite® 1000-75D material, Globe's Jam Break Tools can withstand the extreme wear and tear normally encountered at distribution centers, airports and warehouses.
Rounded Head Reduces Package Damage
Jam Break Tool heads are made of Globe's Brandonite® elastomeric material to provide years of trouble-free use. The specially contoured and rounded heads significantly reduces package damage and provides an ergonomic solution to increase operational performance and worker safety.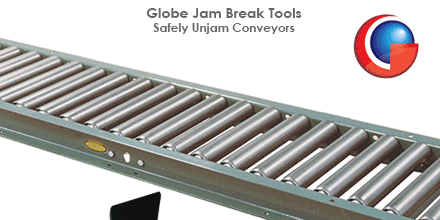 Three Models to Address Any Conveyor Jam Problem
Our line of Jam Break products are used by thousands of distribution centers, airports, and parcel handlers across the world. Companies choose Globe Composite products because they are extremely durable and can handle a variety of package weights and sizes.
Jam Break Tool - Large Package
Head Size: 7" (178 mm) tall x 7-1/4" (184 mm) wide.
Pole Length: The standard pole length is 8 feet (244 cm).
Pole Diameter: Pole is made of heavy grade aluminium, in two sizes:
1" (25 mm), Weight: 4 lbs (1.8 kg), Thickness: 1/16" - P/N 01-11-6200
1-5/16" (33 mm), Weight: 6.5 lbs (2.9 kg), Thickness: 1/8" -
P/N 01-11-6211

Jam Break Tool - Small Package
Head Size: 5" (127 mm) tall x 2" (54 mm) wide.
Pole Diameter: Pole is made of heavy grade aluminium, with a diameter of 3/4".
Pole Lengths: Poles are available in three lengths:
2 feet (61 cm), Weight: 0.6 lbs (0.27 kg) - P/N 01-11-6154
3 feet (91.5 cm), Weight 0.75 lbs (0.34 kg) - P/N 01-11-6153
4 feet (122 cm), Weight 0.9 lbs (0.40 kg) - P/N 01-11-6169

Jam Break Tool - Overhead Roller Conveyor
The Overhead Roller Jam Break Pole allows you to reach jams on overhead roller conveyors. The uniquely designed head easily fits between standard conveyor rollers to break up jams with ease. Made with our elastomeric and resilient Brandonite® material, you can twist and turn this extremely tough Jam Break Tool without damaging or breaking it. The durable molded head also features a tapered base to prevent damage to rollers.
Head Size: 6-13/16" (42.7 cm) wide x 13" (33 cm) long x 1/4" (0.64 cm) thick.
Pole Length: The standard pole length is 8 feet (244 cm). Longer lengths available.
Pole Diameter: Pole is made of heavy grade aluminium.
1-5/16" (33 mm), Weight: 6.75 lbs (3.06 kg), Thickness: 1/8" - P/N 01-11-6219


Custom Pole Lengths and Bulk Quantity Discounts Available
Globe can manufacture jam break tools in a variety of lengths and offers bulk quantity discounts for larger quantity orders.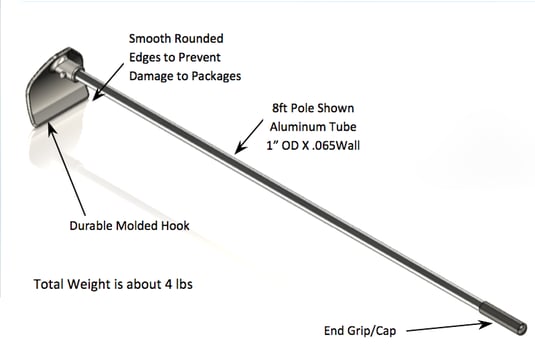 Discover how our Jam Break Poles can help you improve safety and efficiency
INCREASE WORKPLACE SAFETY
Often, package and parcel handlers use makeshift metal hooks or would even climb on a conveyor to release a package jam. The jam break pole allows the handler to safely reach over the conveyor and dislodge a jam, thereby decreasing the likelihood of workplace incidents.


QUICK AND EASY TO REPLACE OR REPAIR
The product head is easily replaced , so it's no longer necessary to send it out to be welded or reattached. In total, the Shepherd's Hook only contains three pieces - the head, a single bolt for assembly, and a gripped pole that can be customized by length.
STANDARDIZE YOUR TOOLS THROUGHOUT YOUR NETWORK
The jam break pole offers a unified solution to providing a material handling solution that can be adopted companywide, rather than using a variety of makeshift tools that are generally produced on a location by location basis, which is more expensive and leads to potentially unsafe & unsuitable solutions.


LONGEST LASTING SOLUTION IN THE MARKETPLACE
The jam break pole is much more durable than other products out in the market. Although it can break under extreme use (i.e., run over by a forklift), it's likely to have several years of use. More often than not, the pole handle, as opposed to the composite-based head, will need replacing.


SPECIALIZED DESIGN REDUCES PACKAGE DAMAGE
Designed specifically for use for one of the largest material handlers in the world, Globe's jam break pole prevents damage to packages as well as protect the employees from crawling over conveyors or packages.