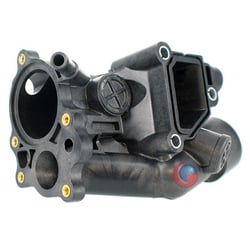 Damaged and worn out metal components and assemblies are a major cause of downtime for businesses. However, it's usually too expensive to replace an entire system with the latest model. The solution may be switching to composite replacement parts, which deliver a cost-effective way to increase the operational performance of existing systems.
By rebuilding your existing components and assemblies using composites, modern technology has the capability to make your parts better than they were before. Better... stronger... faster.
Improving the efficiency and up-time of key mechanical systems is the goal of all Operations, Maintenance, and Performance departments. Over the years Globe Composite Solutions has helped many diverse businesses improve productivity or product efficiency, by studying their systems and maintenance experiences, then designing custom composite solutions.
Globe has found that in most cases, replacing metal parts with composite materials offers an immediate increase in performance, and a reduction in downtime due to part failure. Data shows that the use of composite polymers along with better component design, improves a part's effectiveness, and reduces overall maintenance costs. The advantages of component replacement parts has been shown in the demanding performance requirements for Defense, Airport, Parcel, Material Handling, Marine, Submersible and Industrial applications.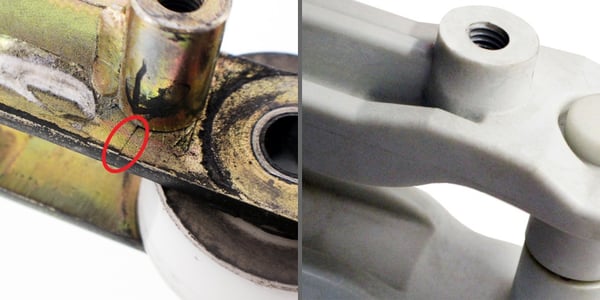 Advantages of Composite Replacement Parts
Better: High performance composite polymers can be custom made to replace basic metal, plastic or rubber parts. Composites can be altered to fit the exact needs of a system, and will meet or often surpass the abilities of existing parts. Increased performance of composite parts results in less downtime and greater replacement part savings.


Stronger: Composites can practically eliminate the typical failure areas of existing metal parts. By examining the stress points and wear on traditional parts, parts can be re-designed and composite solutions can be developed which simply do not wear out the same way original parts do. In addition, assemblies made up of multiple metal parts can be combined into one composite part, further increasing strength as well as lowering costs.


Faster: Composite replacement parts are not only stronger, but are usually much lighter than original metal parts, and allow systems to go faster with less strain. Having lighter replacement parts decreases wear and tear, helps control noise levels, and can greatly reduce energy costs.
Globe Composite has also helped clients by reverse engineering parts for systems, where the OEM no longer manufactures the broken part. Designing new composite parts allows businesses to extend the life of their equipment, instead of making a large capital investment in new equipment.
Rethink your next manufacturing project
Globe Composite has a team of design engineers and chemists that can thoroughly assess your needs and creatively design new parts, or redesign replacement parts, using the latest techniques and composite materials to radically improve performance for your company. Globe is well known for its ability to quickly produce functional prototypes. Rethink your next manufacturing project- design with composites and go beyond traditional manufacturing materials. If your metal, plastic, and rubber material based parts fail, leaving you with time-consuming and costly problems, contact Globe Composite Solutions.