Engineers are tasked with selecting the perfect material for your gasket application. Each part must be able to withstand the task at hand, including operating temperature and being flexible enough to maintain a proper seal throughout the process.
As we discussed in our last blog, engineers historically chose asbestos because it served a myriad of important functions; it was durable, able to handle high temperatures and parts-handling, and relatively affordable. Unfortunately, it was also linked to mesothelioma, an invasive and often fatal type of lung cancer. Once it was pulled off the market, workers had to find an alternative for their gasket solutions.
The Buna-N Breakthrough
Engineers needed a gasket that had the same kind of durability, flexibility, and price point as asbestos, and new options soon hit the market. Leading the charge were elastomeric materials, which included butyl rubber, styrene butadiene, and nitrile rubber. Of these, one became more popular than the rest: nitrile rubber, also known as Buna-N. Known for its oil and fuel resistance properties and sealing abilities, Buna-N became the elastomer of choice for a range of industrial applications.
What is Buna-N (Nitrile Rubber)?
Buna-N is used in many common industry applications, from oil and gas to commercial and automotive. Chemically, nitrile rubber is a copolymer of acrylonitrile and butadiene. The acrylonitrile content in commercial products can vary between 18% and 48%. As the nitrile content rises, there is an increased resistance to petroleum-based oils and hydrocarbon fuels.
Typically, Buna-N is used in places where high oil resistance is required. For example, automotive seals, gaskets, and fuel hoses are often made from nitrile rubbers. However, there is one fundamental problem with Buna-N – the higher the nitrile content, the less flexible it becomes. In other words, engineers often have to maintain a delicate balance between resistance and flexibility. As nitrile rubber is modified for each individual application use, its physical characteristics are adversely affected.
The Buna-N Problem & the U.S. Navy
Many marine and deep sea industries use Buna-N for a variety of applications, from mining to submersibles. The U.S. Navy, in particular, used nitrile rubber in the gaskets and seals of their nuclear submarine fleet. In the mid-1990s, they began to notice fraying and extrusion damage on their missile tube muzzle hatch gasket. This was flagged as an immediate concern, as it could cause flooding within the missile tubes. While the nitrile rubber provided the right amount of oil resistance, it couldn't withstand the low temperatures.
These problems aren't exclusive to submersibles: agricultural industries, automotive applications, and industrial oil and gas mining face similar challenges. Often, project managers have to choose between temperature control and resistance to oil for their specific application, which becomes a real problem in terms of cost and safety.
A Superior Alternative to Buna-N
Fortunately, there is an alternative to Buna-N. Engineers and project managers no longer have to decide between temperature and the perfect seal; they can have both. Globe Composite created a polyurethane-based thermoset elastomer called Flexible, High Strength, & High Elasticity Material (Brandonite® 1200-60A). This unique material offers a better solution to applications that require weight consideration and heavy-duty parts-handling.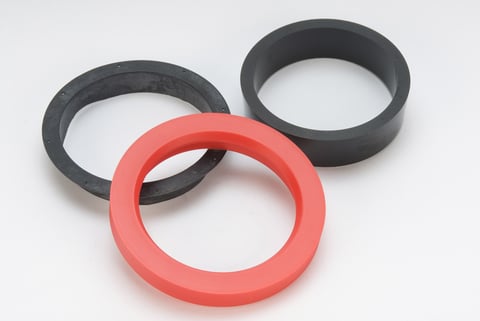 Comparing Buna-N to
Brandonite® 1200-60A

1200-60A

Globe's composite polymer outperforms Buna-N in a variety of fields, making it the superior choice when parts-handling is a factor. Notably, Brandonite® 1200-60A has better tensile strength and elongation properties, while having a significantly lower specific gravity. Its tensile strength can handle up to 5,000 PSI, while its elasticity is rated at 500-600%. It also has superior ozone and UV resistance compared to nitrile rubber. The chart below shows a comparison between the two materials in terms of general purpose: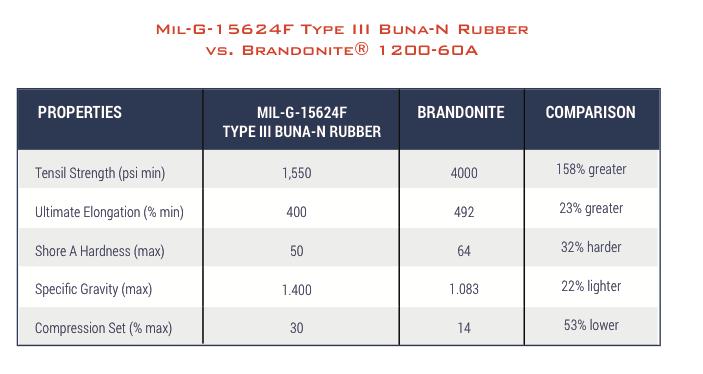 To download the entire
Brandonite® 1200-60A Data Sheet, click here.
Our Flexible, High Strength, & High Elasticity Material has a tensile strength 158% greater, elongation 23% greater, 32% harder, 22% lighter, and a compression set 53% lower than Buna-N, making it a clear out performer.
Applications for Our Flexible, High Strength, & High Elasticity Material
Brandonite® 1200-60A is versatile enough to handle a wide array of submersible, agricultural, and industrial applications. Its tensile strength and resistance make it ideal for gaskets and seals, including those for access hatches, water pumps, deep sea, and marine applications. It is also a superior alternative to nitrile rubber for sealing devices, mooring systems, and shock & vibration mounts.
Our Flexible, High Strength & Highly Elasticity Material consistently outperform nitrile rubber composites in industrial applications. To learn more about how they can better your product, check out our material page for Brandonite® 1200-60A