Automatic Guided Vehicles (AGVs) have been disrupting the Material Handling world. Now that the power of these smart mobile robots has been unleashed, each year brings new advances that are radically changing the industry. New research predicts that "Mobile robotics in material handling and logistics will become a $75bn market by 2027. It will then more than double by 2038" (Business Insider). From smart Autonomous Mobile Robots (AMRs) that move materials around a facility, to warehouse shelves that bring themselves to packers and shippers, to swarms of airport baggage AGCs (Automated Guided Carts), Material Handling is heading for more changes in 2019 than ever before.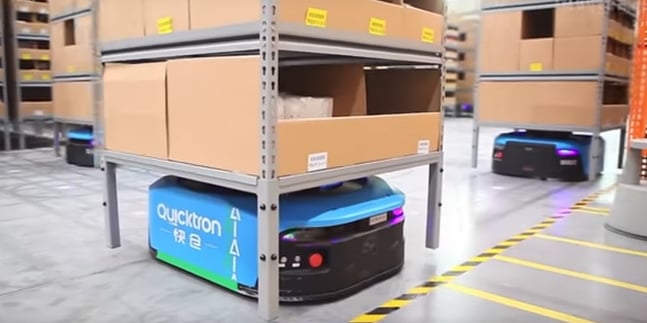 Warehouse AGVs
Robots have moved far beyond serving as static mechanized palletizer arms. Delivery trucks can now arrive at a loading dock, plug into an AGV system, and have their pallets completely unloaded by robots. Pallets can then be accurately transported by automated forklifts to their storage destination. When not assigned a task, AGVs can move themselves to recharging stations and be ready for next shipment to arrive.
As expected, by using mobile robotic workers businesses can lower labor costs, limit damage to goods and reduce the risk of work-related injuries. Apart from the labor cost savings, there are many logistic advantages to using an automated forklift system. For one, robots need less row space than humans, which creates more usable storage space in the warehouse. In addition, the racks themselves can be configured to be much deeper, as robotic shuttle systems can move pallets from the forklift deep into a rack system.
Shipping AMRs
Robots are not only changing the way we receive and store goods, AMRs that use intelligent navigation are also now disrupting the way we pick, pack and ship those goods. Computer systems and robotics now not only mimic how humans worked ten years ago, but now use their unique abilities to re-imagine the shipping process itself.
Instead of workers spending much of their day roaming the aisles in search of items to pick, now the entire product shelf move to the packers. This incredible concept is now in use at Alibaba's smart warehouse where robots do 70% of the work. Shelves are lifted a few inches off the floor by small AMRs from below, and are shuttled along narrow passages to people waiting to pack the orders. The AMRs can lift up to 500 kilo shelves, and receive instructions via WiFi from a central computer. This new method of material handling automation has resulted in a 300% increase in output, while decreasing the need for human workers by 70%.
Amazon has created a similar innovative shuttle system in the USA, and reports that using small robots has allowed them to squeeze in 50% more inventory, and increase output time. In this new piece picking system, products are received and simply placed on any open shelf space. Each bar-coded location is recorded and when needed, the entire shelf of products presents itself to the shipper. Amazon now has 45,000 robots working in at least 20 of its fulfillment centers, which is a 50% increase from the same time the year (Seattle Times).
Airport Baggage AGVs
At last year's inter airport Europe show, Vanderlande showcased its new FLEET AGV, which the company claims is "future-proofing baggage logistics". Vanderlande's FLEET system does away with the need for complex fixed conveyors and sorting systems, and assigns an "intelligent" AGV to each suitcase. Each AGV carries a single bag and determines the optimal route through an airport, drastically changing how luggage moves from customer check-in to the correct departing airplane.
The AGVs transports cargo from check-in, loads it on existing Security Scanner systems, then retrieves it and brings it to the proper departure gate. Due to the decentralized nature of the system, adding additional security screening stations or routing to new departure areas is not an issue.
The company states it uses "swarm intelligence" and advanced data analytics, to optimize the route for each individual package. If a piece of baggage needs faster access to a plane which is about to depart, then other bags move aside giving it priority, allowing for greater on-time delivery. Conversely, if one AGV vehicle needs special attention, others can simply bypass it, adding to the resilience, flexibility and scalability of the entire system.

The Future of Material Handling Robots
The Material Handling industry is very well suited to the robotic revolution, and is perhaps undergoing more change than almost any other field. The many companies that have embraced bots to improve their operational efficiencies, have opened the way for ever more creative methods to increase output and deliver exceptional customer service. As with most workplace advances in robotics there will be a new distribution of skills between man and machine, where many traditional positions will change, and new positions will become available.
The repetitive tasks of loading and unloading, selecting, packing, and moving goods seem destined to to be taken over by AGVs or AMRs in larger facilities. Smaller companies without robots may face greater challenges, as they attempt to match the increased output of their competition. The use of collaborative robots (cobots) is also changing the Material Handling workplace. Rather than replacing workers, a cobot works together with existing staff to make their jobs easier and safer. Either way, the future favors people with experience either co-working with robots, or managing robotic systems. This includes the extra staff needed to manage the higher production rate robots create, those experienced in introducing robotics into existing environments, and those trained to maintain these valuable new tools.
Globe Can Help Solve Your Demanding Material Handling Challenges
Globe is proud to design and produce components for AGVs, AMRs, AUVs and robotic systems, and we can help with traditional material handling challenges as well.
If you:
Have trouble keeping your existing systems operating at full capacity, or

Need to radically improve performance (or extend the service life) of your existing material handling systems ahead of next year's holiday rush, or


Can't get replacement parts from your OEM or distributors
Then Contact Globe Composite Solutions and have our engineers assess your needs and deliver a cost-effective solution that can be quickly implemented to meet your immediate challenges.