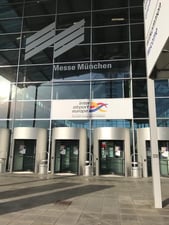 The Globe Composite team was in Munich Germany for the 21st edition of inter airport Europe.The inter airport Europe show hosted 657 exhibitors from 44 countries, who presented a unique variety of the latest airport equipment. This is the world's leading airport exhibition, and it covered all areas of airport-related technology and services, as well as featuring four exhibition categories: interRAMP (ground support equipment), interTERMINAL (technical terminal installations and services), interDATA (specialised hardware and software) and interDESIGN (architecture and furnishings). If we were to come up with a theme for this inter airport Europe exhibition, it would be "continuous innovation". Live demonstrations of new products and innovations were a key feature of the show.
AGVs
The use of AGVs (automatically guided vehicles) was on full display at the exhibition. Vanderlande's FLEET product was very interesting and promises to future-proof baggage logistics. The vanderlande.com website states:
"By utilising intelligent automated guided vehicle (AGV) technology, FLEET replaces the need for fixed conveyors and sorting systems. Each individual vehicle within the fleet carries a single bag and determines the most optimal route through an airport."
Here is a video our team took of the Vanderlande baggage AGV in action. It is incredible to watch how it will be used to transport and store bags at airports.
Companies like Daifuku are using AGVs to help TSA workers move bags in the CBRA (checked baggage resolution area), to avoid lifting and moving bags as they go through manual inspection. Bags are automatically loaded onto an MIT (Mobile Inspection Table) and delivered to the TSA worker. The TSA searches the bag directly on top of the MIT and automatically delivers the bag back to the appropriate conveyor. Daifuku has orders at several airports to install this new system.
EDS Scanners
Additionally the use of smart systems is increasing in use and popularity. Smiths Detection announced a new monitoring system for the CTX 9800 and CTX 5800 explosive detection system (EDS) scanners which monitors and alerts users if there is a potential degradation in performance. This predictive monitoring system allows users to replace parts before they fail, thereby increasing uptime on the system.

Airport Applications
At Globe Composite, we don't just talk - we listen. For over 125 years, we've developed products for some of the most demanding industry applications - including the Airport Industry. No matter how large or small the project, we relentlessly pursue solutions that save you time and money.