Technically, No…
How many x-rays have you had in your lifetime? 2? 10? More? Are you sure?
Did you count each time you've boarded a plane?
Did you count each time your bag, briefcase, or pocketbook has been x-rayed?
How about each time you've gone to jury duty or any major government building?
For major cities like Boston and Los Angeles, with very busy airports, full-body scanners are old news and most airports are on their 2nd-gen of scanners -- a whole new type of scanner. But, here's a little history …
The Backstory
Several years ago, when the full-body scanners were first put into use in the major airports, they installed a type called a backscatter scanner. Backscatter scanners work much like a traditional, but low-level, x-ray. Because of concerns not only over the amount of radiation they gave off but also potentially dangerous items these backscatter scanners miss (let's say hidden inside or behind a prosthetic, even ones for cosmetic purposes) which leads to embarrassing searches, lots of yelling, potential fisticuffs, and threats of lawsuits. (Vacation travel can be grand, eh?) Long story/short, airports switched to millimeter wave scanners. Millimeter wave scanners work in much the same way and give off about as much radiation as a Wi-Fi device, like your cell phone or tablet.
No, the Airport Isn't X-raying You … Intentionally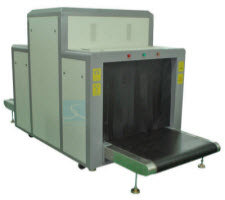 Great, so we've established, the airport is not making you walk through a traditional x-ray machine. While no amount of radiation is really 'safe,' I'm not getting rid of my cell phone, MP3-player, tablet, laptop, microwave, TV, gaming console, etc. any time soon. Items which I put up to my face, hold in my lap, sit in front of for an hour or more (hopefully, not your microwave), respectively.
With vacation season and the second-most busiest travel days upon us, many of us may be embarking on airline travel two or more times in the near future. Maybe you need to go to court for jury duty … Maybe, you're going to a giant sports arena that just increased its security for a game … Or, maybe for a concert and now they x-ray any pocketbooks bigger than a wallet. How much of that x-ray affects you? More than you think.
What Can Be Done?
Machines built to X-ray bags, whether in an airport or a large secure building, aren't designed for people to be scanned. With that in mind, they are still built so that any radiation within the machine which may leak out into the immediate surrounding area is as little as possible. They are still built with human safety in mind. Also, they still use only a very low-level x-ray to scan bags.
Traditionally, these machines are positioned over or around a conveyor belt which feeds the bags though the machine. The entrance for the conveyor belt to go into the machine (like a door) is usually covered with a heavy curtain that looks a bit like vertical blinds and is usually made from some encapsulated lead material. Lead is known worldwide for its great ability to block out or keep in radiation. But, lead is dangerous.
There is an even better material that can block radiation, allows bags to go into scanners more easily, and is lead-free!
High Gravity Composites (HGCs) are polymer-metal hybrid material that replaces lead-based materials. Globe Composite Solutions' award-winning, patented HGC materials are also lighter-weight compared to lead, more pliable for making items like curtains, yet more durable than lead-based products. Since the polymer-metal composite is more pliable, it is less likely to snap, bend, rip, or break compared to lead-based x-ray curtains.
Globe Composite's HGC Curtains:
Last at least 3x longer than lead-based curtains
Have 2.5x better tensile strength and 50% better tear strength
Create 45% less friction, meaning items pass through the system more easily, reducing jams and misreads
Have equivalent radiation shielding compared to lead so that everyone is properly shielded
Has this handy infographic on Brandonite® HGC's benefits and performance
Unlike lead, Globe's High Gravity Composites are also nontoxic and meet some of the most demanding physical requirements utilizing a variety of polymers and metallic and non-metallic fillers. Our Brandonite® 4210, for example, meets EU RoHS Directive and is lead-free (Pb-Free).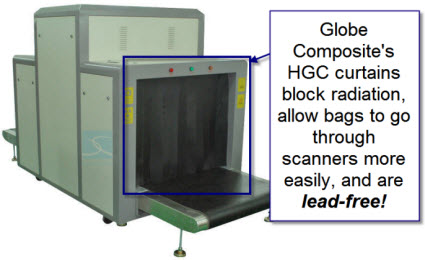 "Globe has developed and patented an environmentally safe, durable and recyclable alternative to toxic lead-based vinyl (or rubber) radiation shielding curtains typically used in x-ray security and baggage scanners. Called HGCs (high-gravity composites), these materials significantly outperform conventional radiation shielding curtain material," wrote Dr. Ron Koniz, an expert in radiation shielding.
If you have any question or would like to talk to us about getting HGC curtains for your security station, please contact Globe Composite.