Microsphere Syntactic Foam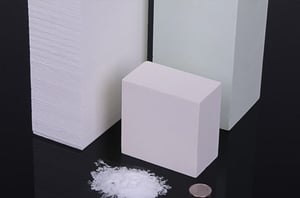 Microsphere syntactic foam is comprised solely of resin and hollow glass microspheres. These spheres have an average diameter of between 10 and 100 microns, giving the syntactic a solid white appearance to the naked eye. Typically provided in block form, this isotropic material is available in a range of densities and is formulated to meet depth and buoyancy requirements down to 10,000 meters.
Blocks may be bonded to form larger structures or machined to a final shape. Machined surfaces are smooth and do not require an additional coating to prevent water absorption at depth, but are often skinned or coated for visibility or to protect the surface from impact.
ESS specifies its high-performance syntactic foam according to the depth of the corresponding ocean layer. Densities may vary within the layer or overlap zones.
SF GRADE
Economic versatility for application-specific depths
High Performance Materials